A few weeks ago my friend and fellow food blogger, Rebecca, said she would be putting together a group of bloggers, who wanted to 'Cook for a Cure' in support of Breast Cancer Awareness Month. Well, October is here, so I definitely wanted to help raise awareness for breast cancer. I thought about a recipe that I thought everyone would love, and I came up with these Strawberries & Cream Pastries. They are SUPER easy to make and perfect for a brunch, breakfast, or even a snack!
Up until about 10 years ago, I didn't know anyone personally who had struggled with cancer. Then, out of nowhere I had a call from my best friend's mom, breaking the news that she had breast cancer. I know what you're thinking, "your friend's mom?", well, she is much more than, 'my friends mom.' Val is the kind of person that cares about everyone, and when her daughter and I became close in high school, I also grew close with her. Over the last…geez, 15 years we have become great friends, and I value her opinion and advice over almost everyone else's. I look to her for help and a shoulder to lean on, much like most daughter's look to their mothers. So, when I heard the news of her breast cancer, I was really upset. Luckily the prognosis was good, and through various treatments she was able to overcome it. She was hugely optimistic through it all, and to this day is a big supporter of Breast Cancer Awareness. When I think about celebrating Breast Cancer Awareness, I think about celebrating her and I am incredibly thankful that she was able to get through that difficult time.
Since then, I have had a few more people close to me struggle with cancer, and it's such a terrible disease. I feel like it is one of those things though, that if you don't know someone who has been through it, it's almost 'out of sight, out of mind.' Celebrating October as Breast Cancer Awareness month is such a great thing because it really puts a lot of attention to it, which it needs. "In 2015, there are more than 2.8 million women with a history of breast cancer in the U.S- This includes women currently being treated and women who have finished treatment. About 85% of breast cancers occur in women who have no family history of breast cancer. These occur due to genetic mutations that happen as a result of the aging process and life in general, rather than inherited mutations." Just based off this information, we need to research and bring even more awareness to the issue. If your concerned about the inevitable aging process, here are
some ways to stay fit as you age
, and deter possible development of breast cancer. I hope that you will take some time and learn a couple things you might not know about the epidemic, and then share!! Knowledge is power!!
Strawberries & Cream Pastries
Ingredients
2

sheets puff pastry

thawed and rolled flat

1

pint

strawberries

hulled and diced

½

cup

sugar

divided plus extra for topping

1

teaspoon

vanilla

½

block of cream cheese

softened

1

egg

beaten
Instructions
1. In a medium bowl, place your diced strawberries and ¼ cup of the sugar, toss to coat, set aside.

2. In a small bowl add softened cream cheese (should be really soft - heat in microwave if needed), vanilla, and remaining ¼ cup sugar; beat well with a fork or electric mixer (if the cream cheese is soft, this should be easy to do by hand.

3. Preheat oven to 350 dgrees.

4. With your dough rolled out, cut each piece into fourths (so you should have 4 rectangles from each sheet). Now you will make about 1 inch cuts along both sides of the rectangles, leaving about 2 inches in the center (to place the filling).

5. Spread about ½ TBS of cream cheese mixture in the center of each piece, then add about 2 TBS of strawberry mixture to the top of that. Starting at one end, wrap your cut pieces into the center, crossing as you go - this does not have to be perfect.

6. Place pastries on a parchment lined baking sheet. Brush egg on the tops and sides of the pastries and give a light sprinkle of sugar over the top.

7. Place in oven and bake for 20-25 minutes, checking done-ness at 20 minutes and continuing until the tops are nicely browned.

8. Remove from oven and serve warm or after they are cooled. Enjoy!
Recipe Notes
Don't like strawberries? This recipe could be made with pretty much any other berry as well, or mixed berries - yum!
Facts from BreastCancer.org
Please visit the other bloggers who have also 'cooked for a cure'! These recipes look amazing and delicious!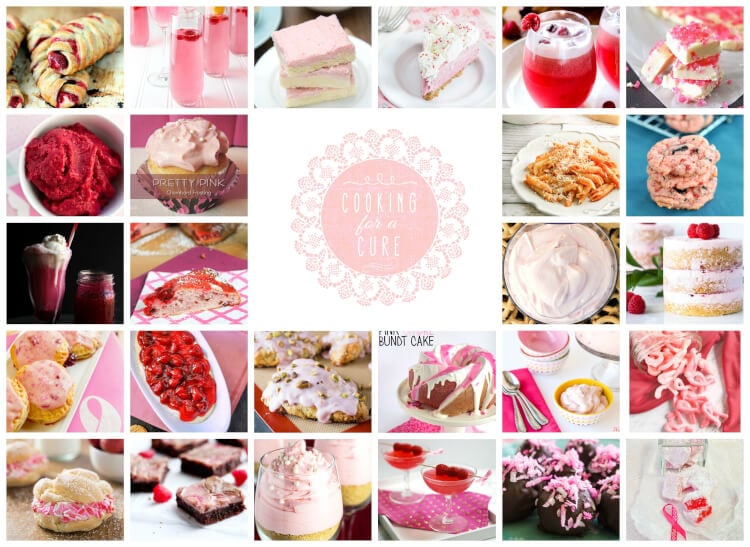 Strawberries & Cream Pastries by Domestic Superhero / Drink Pink Mocktail by Love Bakes Good Cakes / Strawberry Frosted Sugar Cookie Bars by Like Mother, Like Daughter / No Bake Raspberry Cheesecake by Sugar & Soul / Cranberry Raspberry Punch by Carlsbad Cravings / Pink Rock Candy Fudge by Kleinworth & Co. / Raspberry Sorbet by Food, Folks, Fun / Pretty Pink Chambord Frosting by Who Needs A Cape? / Lightened up Pink Vodka Sauce by A Dish of Daily Life / Strawberry Oreo Cake Mix Cookies by Just Us Four / Prickly Pear Soda Floats by Club Narwhal / Cherry Pie Scones by The Bitter Side of Sweet / Pink Fluff Dip by Mamal Diane / Pretty Pink Raspberry Vanilla Mini Cakes by Liv for Cake / Pink Pop Tarts by Life Currents / Strawberry Cheesecake Dip by The Love Nerds / Glazed Cherry Buttermilk Scones by Tastes of Lizzy T / Raspberry Vanilla Pink Ombre Bundt Cake by Cookie Dough and Oven Mitt / Berry Bliss by 365(ish) Days of Pinterest / Meringue Cookies by Mamma Loves Food / Cream Puffs with Strawberry Filling by Cooking on the Front Burner / Raspberry Cheesecake Brownies by Culinary Couture / No Bake Pink Lemonade Cheesecake Parfaits by Homemade Hooplah / Vanilla Berry Cocktail by Twin Stripe / Snowball Truffles by House of Yumm / Turkish Delight by With a Blast
You can also connect with me here:
Thanks for visiting!
- Allyson