This post brought to you by Gro-ables. All opinions are 100% mine.
So, everyone who knows me knows that I am not a true gardener. I always say I would love to have a full luscious garden, with my own veggies and herbs, but no matter how hard I try, it seems to never work out! However, every year, I always try again! This year I heard about this new product from Miracle Gro called Gro-ables.
After watching this video about it, I feel confident that I can successfully grow these seeds. I also feel like these will be the perfect seeds to plant with my 3 year old son, because it seems like they are impossible to mess up! Miracle Gro even has a guarantee that they will grow, as long as you plant them according to the directions! These pods help take out all the guess work when it comes to starting seeds. The seeds are already the perfect depth in the pod, and they tell you exactly when and where to plant them as well.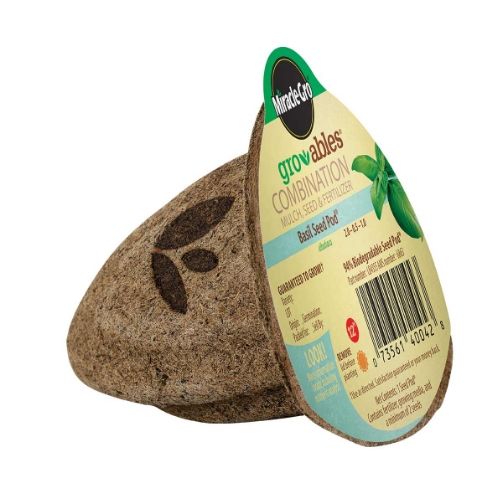 We are planning to plant the basil so that we can have fresh basil to use over the summer. They are so affordable ($1.29-$1.49 per pod) too! I love making pesto and using fresh basil in Italian recipes. Yum! I have been dying to make these delicious Caprese Panini's again, but I have felt like I need to wait until summer to use some fresh basil.
Interested in making them too? Here is the easy recipe:
Caprese Panini's (makes 4)
Ingredients:
1 crusty loaf of bread, sliced
4 TBS fresh pesto (using fresh basil leaves!)
8 slices mozzarella cheese (I used pre-sliced, you could also use fresh)
3 large ripe tomatoes
2 TBS balsamic vinegar
butter
Directions:
1. slice up your tomatoes in medium slices (should have about 12 slices for 4 sandwiches, or 3 slices per sandwich), and place them in a shallow dish. Pour 2 TBS balsamic vinegar over tomatoes. Let sit while preparing the rest.
**Instructions to make 1 sandwich, repeat until you have desired number of sandwiches (recipe is for 4)
2. Butter both sides of bread lightly. Turn over, so butter is facing down. Top 1 slice with 1 TBS of pesto, add 1 slice of cheese, 3 tomatoes, and then another slice of cheese. If you like it really pesto-y, add some more pesto to top slice. Place top break slice butter side out.
3. Heat skillet or panini press, and put sandwich on to cook. If using a skillet, flip when golden brown on one side. I cooked on a skillet for about 3 minutes on medium on each side. I cooked 2 sandwiches at a time and was easily able to flip with enough room in the pan. Repeat until all sandwiches are cooked.
4. Cut in half with bread knife and enjoy!
You can also connect with me here:
Thanks for visiting!
- Allyson